| | | | |
| --- | --- | --- | --- |
| Product Information | | | |
| Origin | Tianjing, China | Shank Diameter | 6 (Mm) |
| Brand | Msk | Custom Processing | Yes |
| Name | Pcd Double Edge Milling Cutter | Specification | 6*6H*6D*50L*2F |
| Material | Solid Tungsten Steel Material/Tungsten Carbide | Product Category | Milling Cutter |
| Full Length | 50 (Mm) | Applicable Machine Tools | Computer Engraving Machine, Advertising Engraving Machine, Woodworking Engraving Machine, Metal Engraving Machine, Fine Engraving Machine, High-Gloss Machine, Cnc Drilling And Tapping Machine |
| | | | |
| --- | --- | --- | --- |
| Name | Pcd Double-Edged Milling Cutter/Double-Edged Straight Knife | Blade Material | Ge Diamond Blades/Element Six Blades |
| Handle Material: | Tungsten Steel Blade | Applicable Machine | Computer Engraving Machine, Cnc, High-Gloss Machine, High-Speed Machine |
| Purpose | High-Gloss Cutting And Finishing Of Acrylic, Pvc, Pc, Gold, Silver, Copper, Aluminum Alloy And Other Materials | Features | Blade ☐ Sharp, Long Use Time, Smooth Surface Of Processed Products, High Gloss Effect |
Specification Table
Specification Blade Diameter * Blade Length * Shank Diameter * Total Length * Number Of Blades
Blade Diameter mm
blade Length mm
Shank Diametermm
Number of blades
ф1.0*4*4D*50L*1F
1
4
4
1
ф 2.0*3*6D*50L*1F
2
3
6
1
ф2.0*4*6D*50L*1F
2
4
6
1
ф2.0*6*6D*50L*1F
2
6
6
1
ф3.0*5*6D*50L*1F
3
5
6
1
ф3.0*7*6D*50L*1F
3
7
6
1
ф3.0*4*6D*50L*1F
3
4
6
1
ф4.0*5*6D*50L*1F
4
5
6
1
ф4.0*6*6D*50L*1F
4
6
6
1
ф4.0*8*6D*50L*1F
5
8
6
1
ф5.0*5*6D*50L*1F
5
5
6
1
ф5.0*6*6D*50L*1F
5
6
6
1
ф5.0*10*6D*50L*1F
5
10
6
1
ф6.0*5*6D*50L*1F
6
5
6
1
ф6.0*6*6D*50L*1F
6
6
6
1
ф6.0*8*6D*50L*1F
6
8
6
1
ф6.0* 10*6D*50L*1F
6
10
6
1
ф6.0* 12*6D*50L*1F
6
12
6
1
ф6.0* 15*6D*50L*1F
6
15
6
1
ф6.0*20*6D*50L*1F
6
20
6
1
ф8.0*5*8D*50L*1F
8
5
8
1
ф8.0*6*8D*50L*1F
8
6
8
1
ф5.0*5*6D*50L*2F
5
5
6
2
ф5.0*6*6D*50L*2F
5
6
6
2
ф5.0* 10*6D*50L*2F
5
10
6
2
ф6.0*5*6D*50L*2F 6 5
6
5
6
2
ф6.0*6*6D*50L*2F
6
6
6
2
ф6.0*8*6D*50L*2F
6
8
6
2
ф6.0*10*6D*50L*2F
6
10
6
2
ф6.0* 12*6D*50L *2F
6
12
6
2
ф6.0* 15*6D*50L*2F
6
15
6
2
ф6.0*20*6D*50L*2F
6
20
6
2
ф8.0*4*8D*50L*2F
8
4
8
2
ф8.0*5*8D*50L*2F
8
5
8
2
ф8.0*6*8D*50L*2F
8
6
8
2
ф8.0* 10*8D*50L*2F
8
10
8
2
ф8.0* 12*8D*50L*2F
8
12
8
2
ф8.0* 15*8D*50L*2F
8
15
8
2
ф8.0*20*8D*60L*2F
8
20
8
2
ф10.0*5* 10D*50L*2F
10
5
10
2
ф10.0*6* 10D*50L*2F
10
6
10
2
ф10.0* 12*10D*50L*2F
10
12
10
2
ф10.0* 15* 10D*50L*2F
10
15
10
2
ф10.0*20*10D*60L*2F
10
20
10
2
ф12*12* 12D*50L*2F
12
12
12
2

Feature:
Made of high-quality materials, the cutting edge is sharp and the service life is long.
The surface of the processed product is smooth and achieves a high-gloss effect.
Wide range of uses, wear-resistant and durable, high quality and low price.
Precautions
Do not touch the cutter head with your fingers or anything. Although the hardness of diamond is very high, even a slight touch will damage the cutting edge and make the cutter unusable. Because a hard particle or even dust hitting the blade at high speed is enough to damage the blade.
If there is wear during use, it can be detected through a microscope. If it is within the refurbished range, it can be regrind and reused for many times to save costs. If it exceeds the measurable wear range, the tool needs to be replaced.
The use and maintenance of single crystal diamond tools
The single crystal diamond tool is brittle, and the blade is very sharp, and it is prone to chipping when it is impacted.
Use under vibration-free working conditions: At the same time, the rigidity of the workpiece and tool and the rigidity of the entire system should be improved as much as possible.
its vibration resistance. The cutting amount below 0.05mm is suitable.
Higher cutting speed can reduce the cutting force, while low-speed cutting will increase the cutting force, thereby accelerating the tool chipping failure, so
The cutting speed should not be too low when using single crystal diamond tools.
The single crystal diamond tool should be avoided in contact with the workpiece or other hard objects in a static state to prevent bumping the cutting edge of the tool and avoid
Avoid stopping the tool without leaving the workpiece during cutting.
The blade of the diamond knife is easily damaged. When the blade is not working, protect the blade with a rubber or plastic cap and place it in a separate place.
Keep it in the knife box, wipe the blade part with alcohol before each use, and then work.
The detection of single crystal diamond tools should use non-contact measurement methods such as optical instruments, and use light as much as possible during inspection and installation.
When testing the installation angle, use a copper gasket or plastic product to place it between the tool and the testing instrument to prevent the blade from being touched.
damage and increase tool life.
Environment (dust particles: dry humidity, etc.): the stability of machine performance; the operating proficiency of personnel, etc. have an impact on the life of the tool.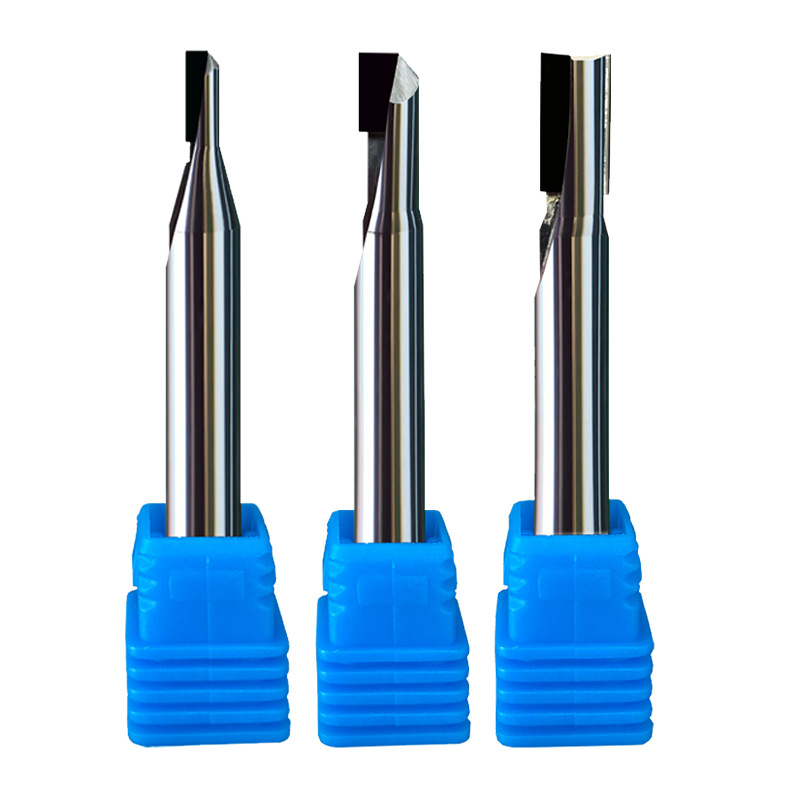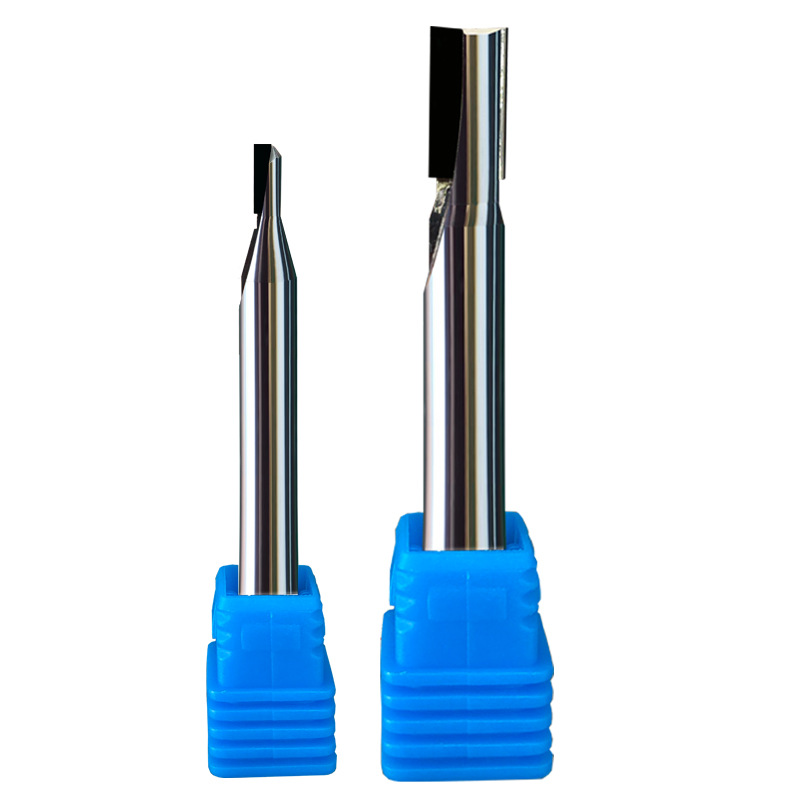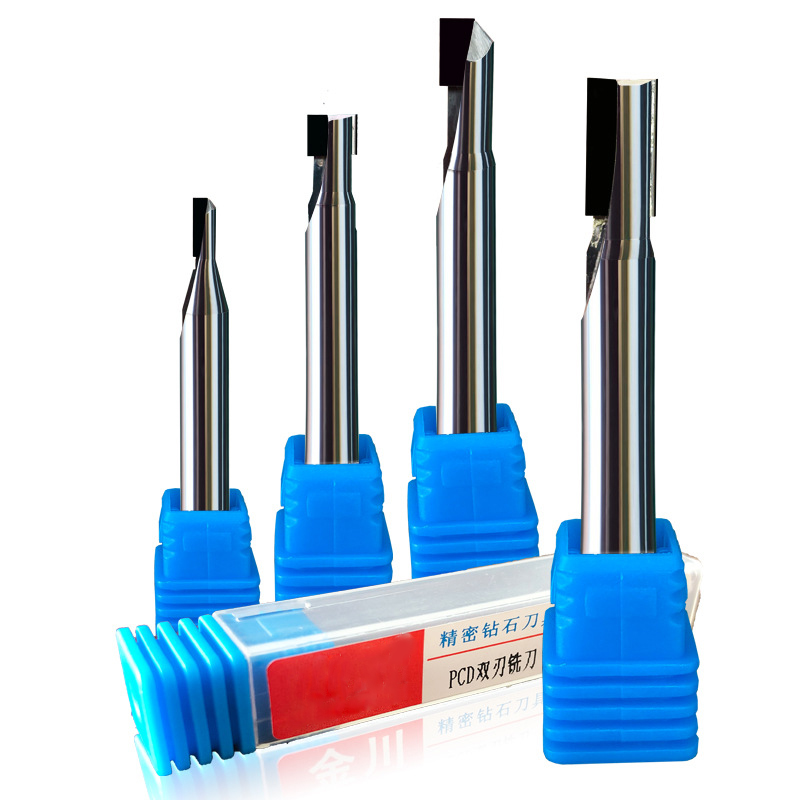 The PCD Tools Diamond End Mills are designed with precision engineering using top-quality materials that ensure its longevity and sturdy features while performing accurate machining tasks. With its sharp cutting edge, it provides consistent reliability for extended periods without compromising quality output; hence it adds value to any business process that requires precision milling jobs.
Our diamond end mills' smooth surface finish creates a polished effect on your final product; it leaves you assured of professional-looking results every time you use them. It has exceptional versatility which allows its application in different areas of production processes from general purpose cutting tool selection to high volume production runs even in highly abrasive material environments. With its wear-resistant and durable features embedded into its design codes, the tool can withstand heavy usage- making our diamond end mill a cost-effective solution for businesses.
At an affordable price tag combined with large stock of products available at quick delivery times upon order confirmation – we've got you covered! Precision is paramount when it comes to end mills – thats why ours stand out from the rest with exceptional precision resulting in outstanding accuracy and consistency. Our Polycrystalline Diamond (PCD) coating sets us apart as it provides unparalleled performance when working on tough abrasive materials including composites, fiberglass and graphite. With its wear resistant properties a given – our tools stay sharp far longer than similar models giving you excellent value for your spend.
With a range of sizes available for our PCD Tools Diamond End Mills – we've got all your production needs covered! If your project requires something unique – don't stress! We can produce custom sizes on request!
At PCD Tools customer satisfaction is at the top of our list – utilizing cutting edge machinery & technologies with premium grade materials ensures our products are beyond exceptional experiences that exceed client needs every time!
In conclusion – If you're searching for an affordable, efficient, and quality option for your machining requirements then PCD Tools Diamond End Mills are the perfect solution. For enterprises seeking a consistent and precise tool our product is the ideal choice.
Its flexible applications and superior features make it an exceptional option. Our dedicated team at PCD Tools is equipped to meet your specific requirements and guarantee your happiness.
Take the first step in improving your machining project by placing an order today!
---
---