| | | | |
| --- | --- | --- | --- |
| Product Information | | | |
| Origin | Tianjing, China | Material | Diamond |
| Brand | MSK | Type | Side Milling Cutter |
| Handle Form | Round | Applicable Machine Tools | Lathe |
| Series | PCD Series | Processing Range | Processing Copper, Aluminum, Acrylic, Etc. |
Performance comparison of single crystal diamond series
Processed material
Processing methods
Processing method (m/min)
Feed rate (m/min)
Depth of Cut (mm)
Fluorosilicone Acrylate Soft Contact Lenses
turning
100-200
0.4
0.1-1.5
PMMA hard contact lenses
turning
100-200
0.04
0.1-1.5
Electroless Nickel (STAVAX) Brass
turning
100-800
0.003-0.01
0.005-0.001
Fly milling
50-1000
0.0005-0.003
0.0005-0.003
Oxygen-free copper
turning
200-880
0.05
0.1
Aluminum, aluminum alloy
turning
100-500
0.05-0.5
0.02-0.2
milling
100-500
0.1-0.5
0.02-0.2
gold jewellery
turning
1000
–
–
Feature:
High hardness, no knife marks. Strong stability, improve processing efficiency.
Tungsten steel blade, the surface is frosted with advanced grinding technology, with higher precision and higher temperature resistance.
High hardness diamond is used as the raw material of the cutter head, which is sharp and durable, and has a long service life.
Flat bottom design, smooth cutting. The high-precision flat bottom has high concentricity, and the engraving is more three-dimensional.
Tungsten steel handle, better stability.
Precautions
Do not touch the cutter head with your fingers or anything. Although the hardness of diamond is very high, even a slight touch will damage the cutting edge and make the cutter unusable. Because a hard particle or even dust hitting the blade at high speed is enough to damage the blade.
If there is wear during use, it can be detected by microscope. If it is within the scope of grinding, it can be re-ground and reused for many times to save costs. If it exceeds the range of measurable wear, the tool needs to be replaced.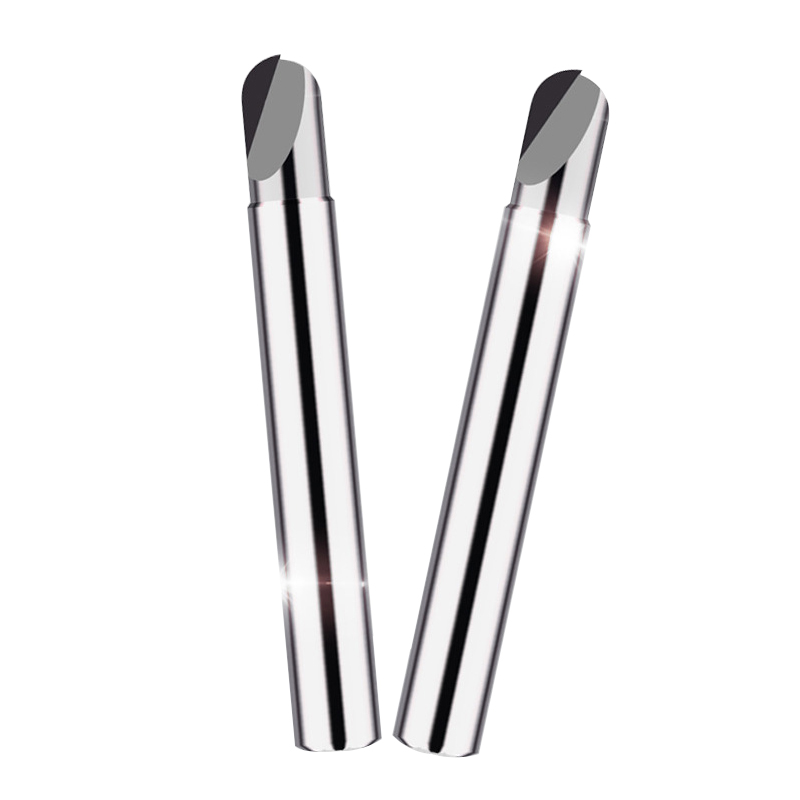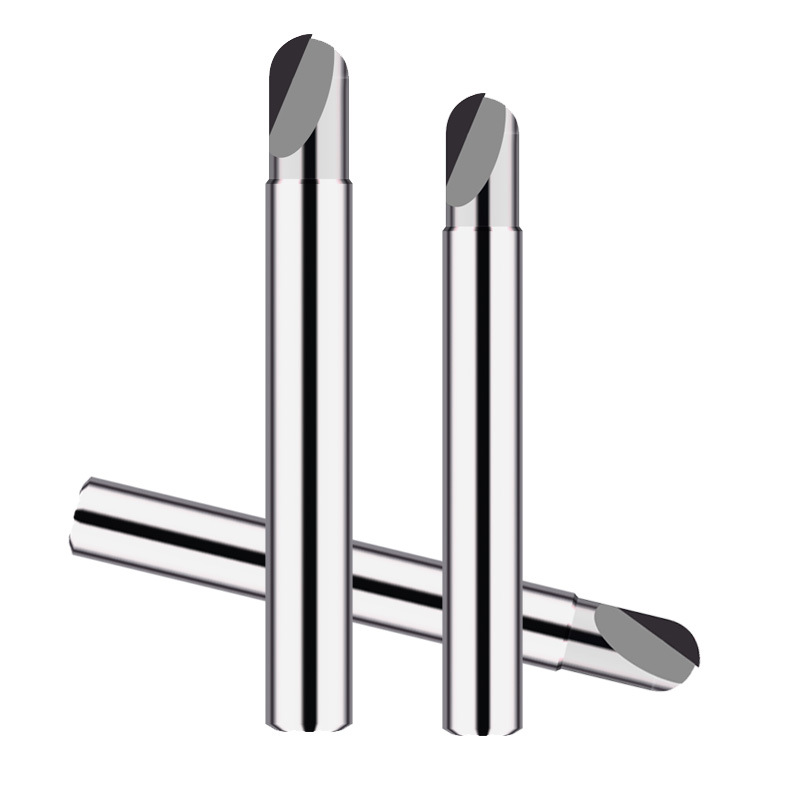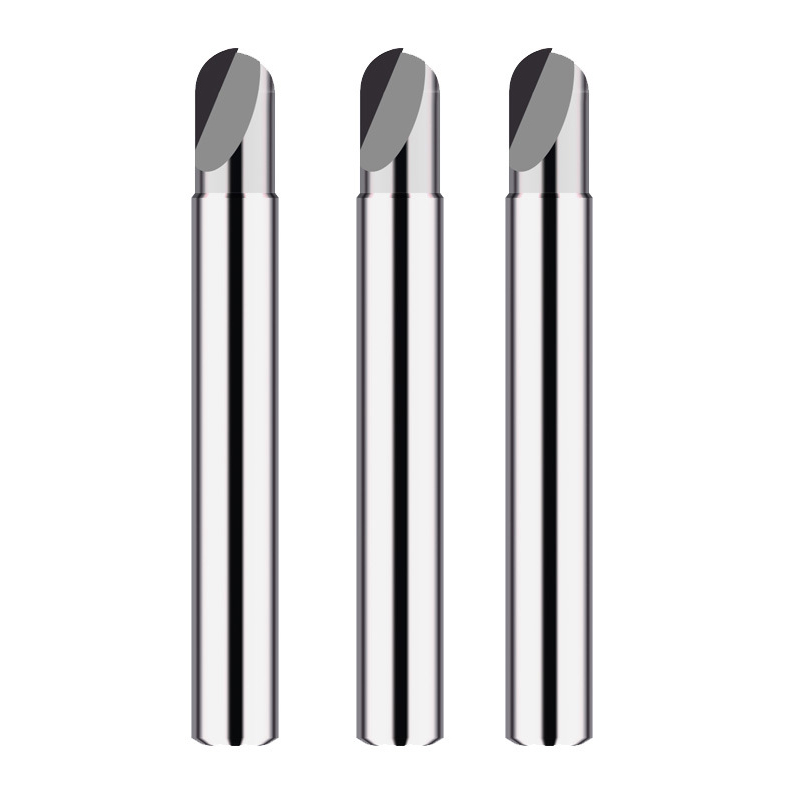 Experience unparalleled accuracy and precision with the revolutionary CNC Lathe Turning Tools PCD Half Ball Cutter – a tool designed to deliver exceptional performance in machining endeavors. Its high hardness eliminates knife marks from your work process giving you total confidence in achieving impressive results consistently. Its outstanding stability also improves processing efficiency so that you can focus on producing quality work.
Made from tungsten steel blade with advanced grinding technology this half ball cutter offers superior precision and temperature resistance capabilities allowing you to cut through tough materials or achieve intricate shapes effortlessly. The diamond based cutter head provides sharpness and durability resulting in extended service life compared to conventional cutters.
What makes this half ball cutter exceptional is its flat bottom design which ensures smooth cuts while maintaining high concentricity that renders engravings more three dimensional without leaving any blemishes; ensuring impeccable designs every time.
The CNC Lathe Turning Tools PCD Half Ball Cutter offers incredible versatility making it an essential tool for any machinist looking to achieve remarkable results. When it comes to machining projects like component creation engraving tasks or point cutting work—this is where the CNC Lathe Turning Tools PCD Half Ball Cutter shines. With its advanced design features delivering smooth cuts with superior accuracy—its hard to beat! For those who value efficiency and precision in their workmanship—the half ball cutter offers cutting edge technology customized for your needs.
Whether a beginner or experienced machinist—you'll find this tool user friendly!
The half ball cutter comprises tungsten steel and diamond making it durable yet reliable all at once! Advanced grinding technology also means that it retains sharpness post multiple use rounds while maintaining high temperature resistance!
In conclusion—choose nothing less than CNC Lathe Turning Tools PCD Half Ball Cutter if you dream of impeccable results with accuracy paramount in your mind! Unleash the full potential of your machining projects by utilizing the power of this premium half ball cutter. With strong stability and high hardness at its core it can handle virtually any task you need it for – big or small. The flat bottom design makes cutting smoother than ever before while maintaining accuracy throughout every use.
Robustness meets ease of use with this exceptional tool that will quickly become a staple in your toolbox for years to come! Don't miss out on elevating your skillset – order now!
---
---